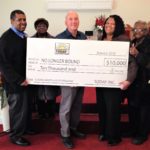 No Longer Bound receives grant from Today, Inc. for $10,000.
March 5, 2018, Bristol, PA.
No Longer Bound Prevention and Training Services is pleased to announce it has received a $10,000 grant from Today, Inc. Foundation, Langhorne PA.
The grant will be used to implement the Guiding Good Choices Parenting Program. Guiding Good Choices is an evidence-based five session parenting program that teaches parents of children ages 9-14 how to reduce the risk that their child will develop drug problems by setting guidelines and strengthening family bonds.
Registration is required; dinner and childcare will be provided.
To register, please email at nolongerboundpa@gmail.com and enter GGC in the subject line.